The main effect of Black Wolfberry:
Enhance immunity, anti-aging: wild Black Goji Berry contains anthocyanins is the most effective natural free radical scavenger, delaying the aging of human tissue and maintain a young state, longevity.
Bushenyijing to prevent cancer: anthocyanins in black goji have the effect of scavenging free radicals, which can also prevent cancer cells from spreading smoothly, thereby protecting more healthy cells from being eroded by cancer cells. Like the pathogenic mechanism of breast cancer is so, so take anthocyanins for the development of breast cancer will have a good inhibitory effect.
Runfei cough, slow down aging: With the acceleration of people's pace of life and work pressure, people's normal biological clock will change from time to time, such as continuous overtime, making people's habits have to accept changes, so Often will have the problem of lack of sleep. After eating black anthocyanins in the anthocyanins, people feel awake much mind, sleep has been completely improved. Black wolfberry anthocyanin is the most effective natural free radical scavenger, delaying the aging of human tissue and maintain a young state, longevity.
Eyesight role: long-term use of black Tea with wild black tea, has obvious role in the protection of eyesight, juvenile pseudo-myopia, middle-aged and old eyes, fundus bleeding, diabetic retinopathy, cataract, visual fatigue, dry eye have good health effect.
Black fruit wolfberry can also prevent diabetes, and has obvious anti-fatigue, liver, but also anti-tumor, dredge blood vessels, blood pressure, protect the cardiovascular system.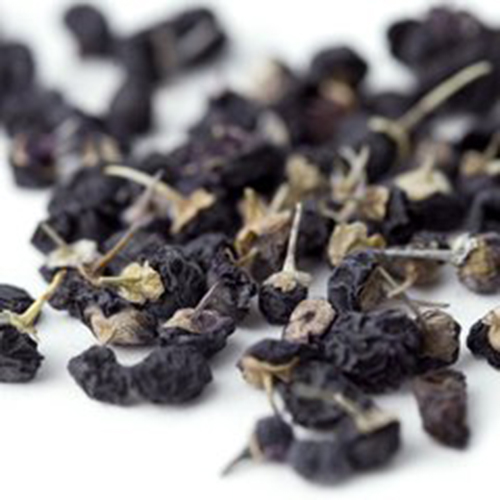 Functions
1. Anti-tumor & neutralizing the side effects of chemotherapy;
2. Anti-fatigue & enhancing body immune system;
3. Maintaining retina health & improve vision;
4. Bestirring brain & improving memory ability;
5. Reducing blood pressure & balancing blood sugar;
6. Lower cholesterol and obesity crisis, & losing weight;
7. Support healthy liver function & adjuvant treatment of chronic hepatitis, cirrhosis.
Edible Ways Of Organic Black Goji
1.Black Goji can be soaked in the water below 60 centigrade degree, also can be drunk as a tea and wine, also can be used for medicine. It is better soaked in the wine for a month.
2.It is better for the adult eat 10g everyday, can be eaten as dry fruit, also can be drunk after soaking in the water.
3.After soaked in the water, will have blue or purple in the cup because of plenty of OPC. In the alkalescence water shows blue, in the neutral water shows purple. Black Goji can be soaked in the water again and again for 5 or 6 times, finally the water shows no any color.
Looking for ideal Black Wolfberry Seed Oil Manufacturer & supplier ? We have a wide selection at great prices to help you get creative. All the Wolfberry Black Dates are quality guaranteed. We are China Origin Factory of Lycium Ruthenicum Black Goji Berry. If you have any question, please feel free to contact us.
Product Categories : Black Chinese Wolfberry > Wild Medium Fruit Black Lycium