Chrysanthemum Tea, a kind of flower Tea made from chrysanthemum, is made of chrysanthemum. Chrysanthemum Tea after picking flowers, dried, suncured steam drying, baking and other processes produced.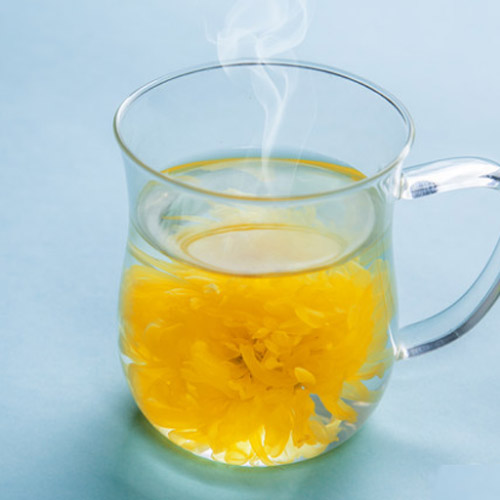 The main component of physicochemical analysis showed that chrysanthemum contains volatile oil, chrysanthemum glycosides, amino acid, adenine, choline, stachydrine, berberine, flavonoids, chrysanthemum pigment, vitamins, trace elements, resistance to pathogens, strengthen the capillary resistance;
flavonoid substance which has been shown to have scavenging effects strong on free radical and antioxidant, anti-aging, etc. very fruitful. From the dietetics point of view, the essence of the plant lies in the flower and fruit.
The petals of chrysanthemum contain 17 kinds of amino acids, of which the content of glutamic acid, aspartic acid and proline is higher.
In addition, it is also rich in vitamins and trace elements such as iron, zinc, copper, selenium and so on, so it has an unparalleled effect on vegetables and fruits. Determination of trace elements in Chrysanthemum from different habitats (ug/g)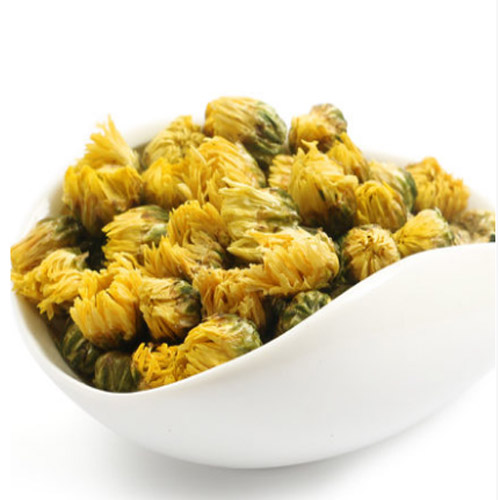 1, with the drink with the bubble, do not overnight. Chrysanthemum tea is rich in flavonoids, it has good antioxidant properties.
2. it can help the body to clear free radicals in the body, reduce cholesterol, inhibit blood pressure and increase many kinds of health effects. But the flavonoids are very unstable, easy to be oxidized, the tea water lost the original yellow color, become green, its health care will also decline. Therefore, chrysanthemum tea should now drink, it is better not to keep it long.
3. Don't put sugar. People with body heat do not add ice sugar, for the body cold body imaginary people, chrysanthemum tea with some ice sugar, can slightly weaken the cold, more suitable for their physique. The body body strong, add rock sugar will be reduced Chrysanthemum Tea heat effect, suggestions can be used instead of dried fruit sugar. 3, learn scientific collocation. No matter what kind of chrysanthemum, nature of cold, General Yang constitution (usually cold) and spleen deficiency (a thing to eat cold stomach pain, stomach discomfort) suggested can fall mulberry, medlar, chrysanthemum tea and dried fruit such as formula, the better effect with Chinese wolfberry Qinggan Mingmu, tonifying the liver and kidney.
4. prevention of mulberry leaves cold. The chrysanthemum flavour sweet, has the nourishing function to the liver and kidney, matches the nourishing liver and kidney the Lycium barbarum, the effect is strengthened.
5.The mulberry leaves and chrysanthemum can evacuate the wind and heat, clear the liver, and use the same use to relieve the fever, headache and other symptoms in the early days of the wind and heat. 4 grams of food with the food, bogey and. The chrysanthemum is poisoned with chicken and pork, and it can not be eaten with celery.
Looking for ideal Relieving Summer -heat Tea Manufacturer & supplier ? We have a wide selection at great prices to help you get creative. All the
Mingmu Chrysanthemum Tea
are quality guaranteed. We are China Origin Factory of
Anti Radiation Chrysanthemum Tea
. If you have any question, please feel free to contact us.
Product Categories : Tea > Chrysanthemum Tea