The Chinese wolfberry wolfberry is much branched shrubs, 0.5-1 m tall, wolfberry cultivation of up to 2 meters; branches slender, curved or arcuate drooping, pale grey, with vertical stripes, thorns, 0.5-2 cm long, long thorn leaves and flowers, branchlet apex acute to echinate. Leaves papery or cultivation quality slightly thick, leaves alternate or 2-4 gold clusters, ovate, ovate rhombic, oblong, ovate lanceolate, apex acute, base cuneate, 1.5-5 cm long, 0.5-2.5 cm wide, large growers, up to more than 10 cm, width 4 cm; petiole 0.4-1 cm long. Flowers in long branch of single or double in leaf axils, with leaves fascicled on short shoots; pedicel 1-2 cm long, to the top of increasing crude. Calyx 3-4 mm long, usually 3 lobed or 4-5 teeth, there are many lobes ciliate; corolla funnelform, 9-12 mm long, pale purple, tube to expand suddenly, slightly shorter than or nearly equal to the eaves lobes, 5 deeply lobed, lobes ovate, apex obtuse, flat or slightly outward counter song, margin ciliate, basal auricles were slightly shorter than stamens; corolla, corolla lobes or abduction and extends the corolla, filaments densely located near base circle down and interwoven into oval shaped bristles, and corolla tube wall tuft height of a ring also densely tomentose; style slightly protruding stamens, bend the bow end, stigma green. The berries are red and oval, and the growers can grow round or long oval, apex or blunt, 7-15 mm long, 2.2 cm long and 5-8 mm in diameter. The seed is flat kidney shaped, 2.5-3 mm long, yellow. The period of flower and fruit is 6-11 months.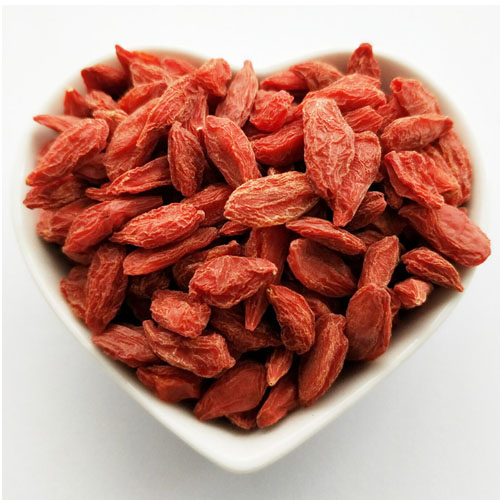 The growth habit of Chinese wolfberry is cold and cold climate, the cold resistance is very strong. When the temperature is stabilized by 7 degrees Celsius, the seeds can germinate, seedlings resistant to low temperature 3. Spring temperatures in 6 degrees above, spring buds began to sprout. No frost in winter - 25 DEG C and medlar. The root of Lycium barbarum is developed, and the drought resistance is strong, and it can still grow in the arid desert land. In order to obtain high yield, the water supply is still guaranteed, especially in the period of flower and fruit. The growth of the branches of Lycium barbarum is strong, the fruit and fruit are strong, the fruit is large, the yield is high, and the quality is good. Lycium barbarum is mostly grown in alkaline soil and sandy loam, which is most suitable for cultivation in deep soil and fertile loam.
Looking for ideal Goji Cream Anti Wrinkle Manufacturer & supplier ? We have a wide selection at great prices to help you get creative. All the Young Living Wolfberry are quality guaranteed. We are China Origin Factory of
High Quality Dried Wolfberry
. If you have any question, please feel free to contact us.
Product Categories : Bulk Of Chinese Wolfberry > Bulk of Wolfberry King