introduction
The growth habit of Chinese wolfberry is cold and cold climate, the cold resistance is very strong. When the temperature is stabilized by 7 degrees Celsius, the seeds can germinate, seedlings resistant to low temperature 3. Spring temperatures in 6 degrees above, spring buds began to sprout. No frost in winter - 25 DEG C and medlar. The root of Lycium barbarum is developed, and the drought resistance is strong, and it can still grow in the arid desert land. In order to obtain high yield, the water supply is still guaranteed, especially in the period of flower and fruit. The growth of the branches of Lycium barbarum is strong, the fruit and fruit are strong, the fruit is large, the yield is high, and the quality is good. Lycium barbarum is mostly grown in alkaline soil and sandy loam, which is most suitable for cultivation in deep soil and fertile loam.

Efficacy and role
Efficacy of a regulation of blood lipids
Goji Berries can effectively reduce the content of triglyceride and cholesterol in the serum of rats with hyperlipidemia, have obvious hypolipidemic effect, regulate lipid metabolism, and have a positive effect on preventing cardiovascular diseases.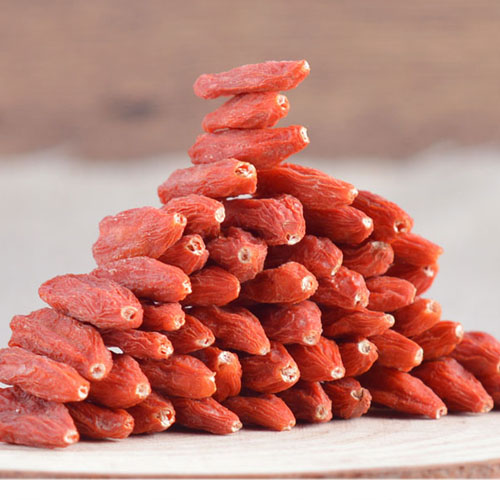 Efficacy two hypoglycemic
Lycium barbarum polysaccharides can significantly increase the activity of damaged islet cells superoxide dismutase (SOD), improve islet cell antioxidant capacity, reduce peroxide damage to cells and reduce the formation of endodialdehyde, indicating that lycium barbarum polysaccharide Islet cells have a protective effect.
Three beauty beauty, moisturizing skin
Skin aging is mainly caused by free radical oxidation, and the lycium contained in the lycium barbarum polysaccharide, B-carotene are powerful antioxidants, combined with the Chinese wolfberry contains trace elements selenium and vitamin E synergy, the composition Strong antioxidant force; In addition, vitamin A can maintain the growth and differentiation of epithelial tissue to prevent dry skin and hair follicles keratosis, which play a beauty, nourishing the skin.
The benefits of drinking water and harm
Objectively speaking, wolfberry soaked in water is not harmful to drink all year round will not produce much harm. Its biggest side effect is excessive consumption can cause ignition, nosebleeds, and even cause eye irritation uncomfortable.


Looking for ideal 500g Goji Berries Manufacturer & supplier ? We have a wide selection at great prices to help you get creative. All the Dry
Goji Berries Organic Powder
are quality guaranteed. We are China Origin Factory of Goji Berries and Kidney Health. If you have any question, please feel free to contact us.
Product Categories : Bulk Of Chinese Wolfberry > Bulk of Hip2o5 Wolfberry